PhotoFinale updates mobile app
New App Upgrade Available!
Features: Creative Product Ordering & Built-in Photo Editing
We are excited to bring you a big new release for your iPhone/iPad ordering app. Version 4.0 features full creative product ordering and integrated Adobe Creative Cloud photo editing. We also have full Spanish and French translations built in, and have made improvements to the quantity picker as well as made a few bug fixes and performance enhancements.

This opt-in upgrade is $199 and we are building apps now! The upgrade fee covers this version, as well as all the features we will add under the 4.x track, including (but not limited to!) support for the upcoming (iOS 11) HEIF image format, integration of the "upload to kiosk" functionality for those dealers with kiosk transfer licenses, automatic smart crop recommendation for prints, and a main menu redesign.
Have 4.0 well in place for the holiday rush
Give your customers the ability to order cards, books, calendars and everything else you offer online. Getting your update out there now means it will be well-established come holiday rush, which is right around the corner. App updates aren't only technically important, they keep your brand top-of-mind and show your customers that you are current.
No app yet? We're building new apps in 4.0 now, too. Reply to this email or contact your sales repfor pricing. If you have discontinued use of the app, now is the perfect time to revive it! We have added a lot in the last few releases, the full history of features can be accessed here: https://www.photofinale.com/iphone-ipad-ordering-app-change-log.
Let your customers know about 4.0 and creative product ordering and photo editing!Click here to download an html snippet to include in your next e-newsletter.
Questions: reply to this email. Ready to order: contact your sales rep or order online through myLab.

Proofing Gallery
Our Proofing Gallery sites were a hit at the recent IPI show and our build team is churning them out left and right. If you have a studio or shoot or print event photography, and haven't looked into adding a Proofing Gallery to your lineup–now is the time! Our newest product, the Proofing Gallery system is designed for professional photographers to store and share photos from shoots and to present them to clients for proofing and easy print and creative product purchase.
All the Details About Proofing Galleries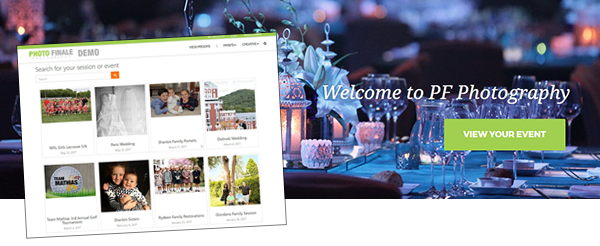 If you shoot studio work or event photography, a Proofing Gallery will give you a polished way to show clients proofs, and an easy way to take orders for your professional prints and products. And, your Lab 50 can support multiple Proofing Gallery sites, so if you have pro photographers who want to fulfill through you, you can offer them their own, branded site that is seamlessly connected to your printing and fulfillment services.