Grays of Westminster have been honoured by Nikon for their outstanding service
Toru Iwaoka, President Nikon Europe, presents Gray Levett, founder of Grays of Westminster, with a beautiful Nikon 100th Anniversary Crystal Creation the Nikon Model I
LONDON (PRWEB UK) 29 MARCH 2018 – On Monday 5th March, Gray Levett, the founder of Grays of Westminster, the multi-award-winning Nikon-only store was presented with a beautiful Nikon 100th Anniversary Crystal Creation the Nikon Model I by the President of Nikon Europe Mr. Toru Iwaoka. The presentation took place at Grays of Westminster in London before its senior executives and representatives from the Nikon Corporation.
"On behalf of the Nikon Corporation and in commemoration of our 100th Anniversary, I am delighted to present you with this exclusive gift as a token of our appreciation for your years of outstanding service to Nikon.

"Grays of Westminster represents a unique part of Nikon's heritage and we are deeply grateful to you for all you have done over the years.

"We wish you many more successful years to come."

Toru Iwaoka, President Nikon Europe
The Nikon Model I was the very first Nikon camera and is the first word in Nikon's history. The original Nikon camera was developed in 1948. The 100th Anniversary Crystal Creation of the Nikon Model I brings this iconic camera back to life, using high-quality crystal by renowned crystal maker Swarovski.
Gray Levett said:
"This unique gift came as a complete surprise to me. I am deeply moved by the generosity and thoughtfulness of this magnificent gift from Mr. Iwaoka and the Nikon Corporation.

"Nikon has recently celebrated its 100th Anniversary. A Centennial is a very significant event in the history of any company. Nikon has created products that have captured some of the most amazing moments in time. It was Nikon, for instance, that was chosen by NASA to go into space in 1971; since then, Nikon cameras and lenses have been used on all subsequent missions. There has always been a passion and commitment to excellence and innovation within Nikon itself, passed on through the years as part of the corporation's DNA. I am proud and honoured to have been a small part of this illustrious company."
About Grays of Westminster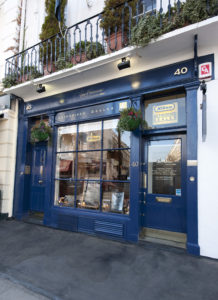 Grays of Westminster, the legendary multi-award-winning Nikon-only shop, was founded over thirty years ago by Gray Levett upon returning to London from working in Hollywood, with the idea of creating a world-class camera store, offering a service that is second to none.
Grays of Westminster is not simply a famous Nikon camera shop; it is to many photographers around the world an institution. It can trace back its beginnings from a modest mail order company to its present, highly-respected position in the photographic industry worldwide.
It has won numerous awards and distinctions and is the first camera shop in the world to be granted a Coat of Arms by Her Majesty's College of Arms.
Grays of Westminster remains a favourite address for Nikon photographers seeking out that impeccably English camera store in the centre of London.
An Unparalleled Reputation for Good Service: Grays of Westminster won the Amateur Photographer Gold Good Service Award in 2011, 2012, 2013, 2014, 2015 and 2016. In 2017, Grays of Westminster became the first-ever winner of the newly inaugurated Amateur Photographer Good Service Platinum Award which was established to recognise and reward not only outstanding service but to acknowledge the most popular store calculated by the largest number of votes by readers of Amateur Photographer and customers of Grays of Westminster. In February 2018, Grays of Westminster won this award for the second year in a row.